Roll over image to zoom in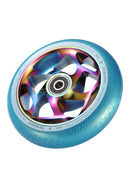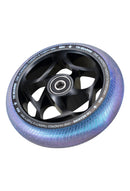 Description
Envy is always thinking outside the box and these wheels definitely prove that. Tri-Bearing technology is a brand new concept and it sounds like it can be beneficial due to more whee/axle support and the fact that the wheel distributes impact more evenly because of the additional bearing. The wheels also have some "tread" on the outer areas of the urethane which can provide more grip when leaning. PRICED FOR PAIR.
Envy - 120mm x 30mm Tri Bearing Wheels
The Envy Tri Bearing design improves impact distribution and extends bearing life.
Integrated tread into the PU greatly improves the benefits of the 30mm wide wheels size.
-Inspires confident riding and improves traction! 
120mm x 30mm wide 86A PU
Tri Bearing Design with Wheel tread.
Payment & Security
Your payment information is processed securely. We do not store credit card details nor have access to your credit card information.